About us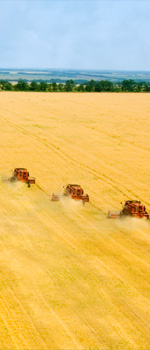 RZ Agro is a private Company owned by a group of international investors, with more than a century-old history in agricultural business in various parts of the world including Russia.

The Company's portfolio consists of over 100,000 hectares (200,000 acres) of agricultural land owned or controlled on a long-term lease basis. The land is located in Southern Russia and the Company plans to actively expand into other key grain producing regions of Southern Russia.

RZ Agro has a strategic plan to consolidate over 200,000 hectares of prime arable land located in neighbouring regions and divided into regional clusters. It aims to achieve cost effective production through a combination of transparent and compact corporate structure, and targeted investments in domestic and imported equipment. The first regional cluster was created in Rostov region in 2009 through acquisition of three well-established agribusiness companies. Over the last three years, RZ Agro has been applying proven agro-industrial and management processes to reach best possible synergies and optimizations on the managed land.
In Russia, RZ Agro is represented by the managing Company Russkaya Zemlya LLC, with offices in Moscow and Rostov-on-Don.